WPFG Sponsors BarnRaisers Charity Golf Tournament
Published September 22, 2014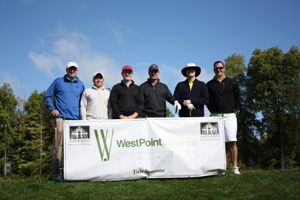 (Monday September, 22, 2014) WestPoint Financial Group served as the Title Sponsor for the 3rd Annual BarnRaisers Charity Golf Tournament held at Wolf Run Golf Course in Zionsville, IN. This invitational tournament offered a great day of golf, prizes, food, beverages and networking – all done with a goal toward philanthropy. WestPoint provided commemorative Adidas windshirt's for each participating player, along with other great gifts.
Half the proceeds from this year's outing will go towards the funding of Miracle Field. Miracle Field is a special needs baseball/softball/soccer/kick ball field designed for individuals with physical and mental disabilities and their "buddies" for mobility. The field will be used by all ages, but is targeted toward children.
With remaining proceeds, BarnRaisers will be helping the Fondwa Haiti Water Project. Fondwa is a poor community village approximately two hours west from Port au Prince. The village is the home of Fatima Orphanage which houses approximately 60 children. Obtaining clean drinking water is a constant challenge for everyone in the mountainous village. BarnRaisers will raise and deliver funds to construct a large cistern which will allow the community to collect and store clean water for drinking, cooking, and bathing.
More about WestPoint: WestPoint Financial Group is located in Indiana and Central Illinois with a combined financial services professionals and staff of 200. Originally established in 1948, WestPoint Financial Group associates are dedicated to educating their clients to help them fulfill their financial goals and the promises of security they have made to others. For more information regarding WestPoint Financial Group, visit: www.westpointfinancialgroup.com.
Securities offered through qualified registered representatives of MML Investors Services, LLC., Member SIPC. Supervisory Office, 900 E. 96th Street, Suite 300, Indianapolis, IN 46240, 317-469-9999.
CRN201607-183281