WestPoint Financial Group makes Top 10 and Hall of Fame at Indiana's Best Places to Work Awards Dinner
Published May 2, 2014
by Lauren Civils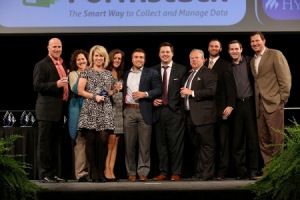 Friday, May 2, 2014 (Indianapolis, IN) - WestPoint Financial Group was recently honored as one of the top ten Indiana's Best Places to Work on the Major company list during the 2014 Best Places to Work Indiana Awards Dinner Thursday evening. The awards program was created in 2006 and is a project of the Indiana Chamber of Commerce, BizVoice®, Inside INdiana Business, the Society for Human Resource Management (SHRM) - IN State Council, the Indiana Economic Development Corporation and Best Companies Group.
This statewide survey and awards program was designed to identify, recognize and honor the best places of employment in Indiana, benefiting the state's economy, its workforce and businesses. The 2014 Best Places to Work in Indiana list is made up of companies in the small/medium-sized list (15-249 employees in the United States) and large/major-sized list (250+ employees in the United States).
Companies from across the state entered the two-part process to determine the Best Places to Work in Indiana. The dual-selection process consisted of evaluating each nominated company's workplace policies, practices, and demographics, as well as an employee survey to measure the employee experience the company provides.
A new element was added to the awards ceremony this year. Companies who have been named to a Best Place to Work in Indiana at least two-thirds of the time in the program's history were inducted into the Hall of Fame. A total of 23 organizations on the 2014 list meet that criteria, and WestPoint Financial Group is proud to be named one of them.
More about WestPoint:
WestPoint Financial Group is located in Indiana and Central Illinois with a combined financial services professionals and staff of 200. Originally established in 1948, WestPoint Financial Group associates are dedicated to educating their clients to help them fulfill their financial goals and the promises of security they have made to others. For more information regarding WestPoint Financial Group, visit: www.westpointfinancialgroup.com