WestPoint Financial Group has made the 2016 Best Places to Work in Indiana finalist list!
Published February 16, 2016
by Lauren Fox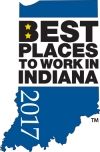 (Tuesday, February 16, 2016) WestPoint Financial Group is has been selected as one of the Best Places to work in Indiana for 2016.
The program had the highest number of applicants to date this time – 200 in total.
The actual rankings for the companies will be unveiled at a May 5 awards dinner at the Indiana Convention Center (Sagamore Ballroom) in downtown Indianapolis.
These top companies in the state were determined through employer reports and comprehensive employee surveys. The Best Companies Group, which handled the selection process, oversees similar programs in 27 other states.
Winners were selected from four categories: small companies of between 15 and 74 U.S. employees; medium companies of between 75 and 249 U.S. employees; large companies of between 250 and 999 U.S. employees; and major companies with 1,000 or more U.S. employees.
Organizations on this year's list that have displayed sustained excellence during the program's 11-year history received additional recognition.
Hall of Fame companies are those that have been named a Best Place to Work in Indiana at least two-thirds of the time in the program's history; a total of 14 organizations on the 2016 list meet that criteria. We are proud to say we are a member of the Hall of Fame.
All companies that participated in the 2016 Best Places to Work program receive an in-depth evaluation identifying strengths and weaknesses according to their employees.
The 2016 Best Places to Work in Indiana companies in our category are listed in alphabetical order, no ranking:
Medium Companies (75-249 U.S. employees) (21) Company / Primary Indiana Location *Hall of Fame companies
Allegient, LLC / Indianapolis
Bierman ABA Autism C
Bierman ABA Autism Center / Indianapolis
Blue Horseshoe / Carmel
Butler, Fairman & Seufert, Inc. / Multiple locations First
Internet Bank / Indianapolis
Gibson / South Bend Heritage Petroleum, LLC / Evansville
HWC Engineering / Indianapolis
Indiana Oxygen Company / Indianapolis
J.C. Hart Company, Inc. / Carmel
Mainstreet / Carmel
Merchants Bank of Indiana and PR Mortgage & Investments / Carmel
Moser Consulting / Indianapolis
OurHealth / Indianapolis
Peoples Bank SB / Munster
Performance Services / Indianapolis
Project Lead The Way, Inc. / Indianapolis
Purdue Federal Credit Union / West Lafayette
Sheridan Community Schools / Sheridan
Software Engineering Professionals (SEP)* / Carmel
WestPoint Financial Group* / Indianapolis
CRN201803-200352