Our Associates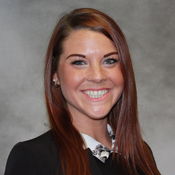 Nicole Conser
Title: Agency Recruiter
Email: NConser@financialguide.com
Location: Fort Wayne, IN
Nicole Conser is an Agency Recruiter for WestPoint Financial Group.
Nicole is a graduate of the Mike Russ Financial and Insurance Training Center, where her focus was in Property and Casualty Insurance.
Prior to joining WestPoint Financial Group, Nicole served as the Sales and Marketing Manager for a restaurant group in San Diego, California. Before that, she worked as the Administrative Assistant Manager for Pacific Beach Insurance Services.
In her free time, Nicole is very crafty. She owns a jewelry business called "Happy Soul Creations" and hand-makes all her products. She also enjoys doing yoga and traveling.
CRN201807-184508