Our Associates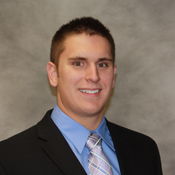 Bryan Wittenbraker
Title: Financial Services Professional
Email: bwittenbraker@financialguide.com
Location: Evansville, IN
Bryan has served as a Financial Services Professional since May of 2011. He focuses on providing objective and customized solutions to his clients in order to help them achieve their current and long-term financial goals and objectives. Bryan focuses on working with business owners, families and young professionals. He also enjoys helping clients plan as their families and careers grow.
Bryan was born and raised in Newburg, Indiana where he attended Castle High School. He then went on to study Marketing and Insurance & Risk Management at Indiana State University.
In his free time, Bryan enjoys spending time with family, friends, his wife Amber & their dog Maci. He also enjoys golfing, playing basketball, watching football and is an avid Tampa Bay Buccaneers fan.
Bryan Wittenbraker is an insurance representative of Massachusetts Mutual Life Insurance Company (MassMutual). Supervisory office: 900 East 96th Street, Suite 300 Indianapolis, IN 46240 Phone (317) 469-9999.